Welcome to Troon Mountain Community Association (TMCA)!
Nestled against three sides of Troon Mountain; TMCA is an exclusive, gated community, attracting those interested in enjoying Arizona's unique desert lifestyle to the fullest. Thought the heart of the Troon Village Homeowners Association, TMCA offers the rare opportunity to live in peace and harmony with the natural setting of the Sonoran Desert, surrounding mountains and a wide variety of wild life.
Conveniently located in North Scottsdale, TMCA is 2500 feet above sea level, with day and night time temperatures often recorded as much as 10 degrees below those on the valley floor. We are a community that offers the privacy of a desert retreat, appealing to both full time residents and those pursuing a 'snow bird' lifestyle. Yet, we are only minutes away from popular shopping, award-winning restaurants and the ever-popular Starbuck's!
Throughout the community, panoramic views of several nearby mountain ranges; sweeping views of the desert floor; stunning close-ups of Troon Mountain, Pinnacle Peak and other unique, one-of-a-kind rock formations; as well as nighttime views of city lights are a way of life. Many of our individual properties have incorporated these natural elements into their home designs with stunning results, setting TMCA apart from other desert communities, including those within Troon Village.
We are also proud to say our property is the home for Troon Country Club. Consistently ranked among the top 100 golf courses in the world, the club was designed by golfer Tom Weiskopf and architect Jay Morrish to mirror its namesake, Royal Troon in Scotland.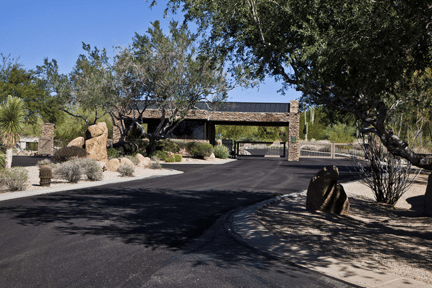 Our community consists of 239, high quality, custom-built, artisan homes; and, offers state-of-the-art, 24 hour controlled gate access every day of the year. We are proud to be a professionally managed, fiscally sound community, committed to delivering the life experience our residents expect. Come join us!
About This Website …
The goal of this website is to provide TMCA residents with current, up-to-date information about their community. Updated regularly, this website houses pertinent HOA documents, an events calendar and other useful information. TMCA Board members are listed and welcome questions or insights regarding this website.